The Walkie-Talkie building, infamous for melting cars, has one of the UK's largest green walls, to the South side of the building, facing North.  I designed this wall as my last commission for Biotecture, the living wall company I conceived and co-founded. They were in turn commissioned by Willerby Landscapes.


The design went through many permutations but in principal I wanted to use the wall size to create a banded horizontal wave pattern, each band consisting of a matrix of similar plant types.  Some smaller areas of single-species plants were also included as these would be better defined by the contrast.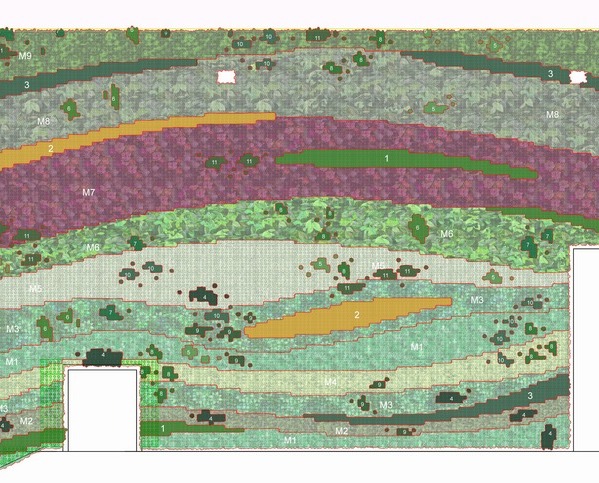 Plants were chosen with a wide mix of Natives – at least 12 species – 9 groups of the aforementioned matrix planting and a number of single species groups and clumps, such as Luzula sylvatica (native woodrush) or Polystichum aculaetum (hard shield fern).
The lower bands were much smaller than the upper bands, to give the best visual aspect to those at street level and to bring things to a human scale.  The layout design was simple, the plant groupings and textural contrasts more complex.  Time will tell if they work out as planned!
Installation seems to be happening in stages, as the building works complete.  the photo below was taken in July.