This is the first of a four-part article, links to the others are at the end.
These articles are all a part of the same thought progress, which has been brewing for some time and started with an article I wrote two years ago, in March 2018. I think this is an important subject, and hope that you'll agree and read them…
Whenever I am in the UAE, I find time to visit various parks and gardens; on my latest trip to Dubai (February 2020), I went to see Al Ittihad park, a well-kept secret in the spine of the Palm Jumeirah, underneath the monorail, which was designed using native and naturalized plants of the UAE. It also, the blurb said, promised everything was labeled, so ideal for a crash course in local flora. The park was interesting but unfortunately all the labels had gone, and it was being maintained in the manner of all landscapes; incorrectly, especially so for native planting.
Of equal or greater value, however, are simple walks around the back-streets and suburbs of a city and I find empty brownfield sites, awaiting development, often offer the best insights as to what will actually grow in an arid region, if things are left to their own devices. It's more than you'd think, and it's not all native. I've written about this before, in this article and I'm building here on my earlier observations.
The world is gripped in fear of biological invasion, currently of Coronovirus but I'm talking here of the floral kind. Globally, there is a growing passion for conservation, restoration of what was, of what we think of as native and right. We seem to think that in taking this approach, we are setting right the wrongs we have done; nothing could be further from the truth. Fortunately, Nature doesn't share that passion and is busy dispersing its flora and fauna around the place, wherever and however it can. That it uses humans as vectors for that dispersal, is obvious, if you just look upon it from a wider perspective. Perhaps Nature knows something that we humans are trying hard to ignore; that the climate is changing, the rules of life are shifting, that ecologies need to adapt to the new conditions.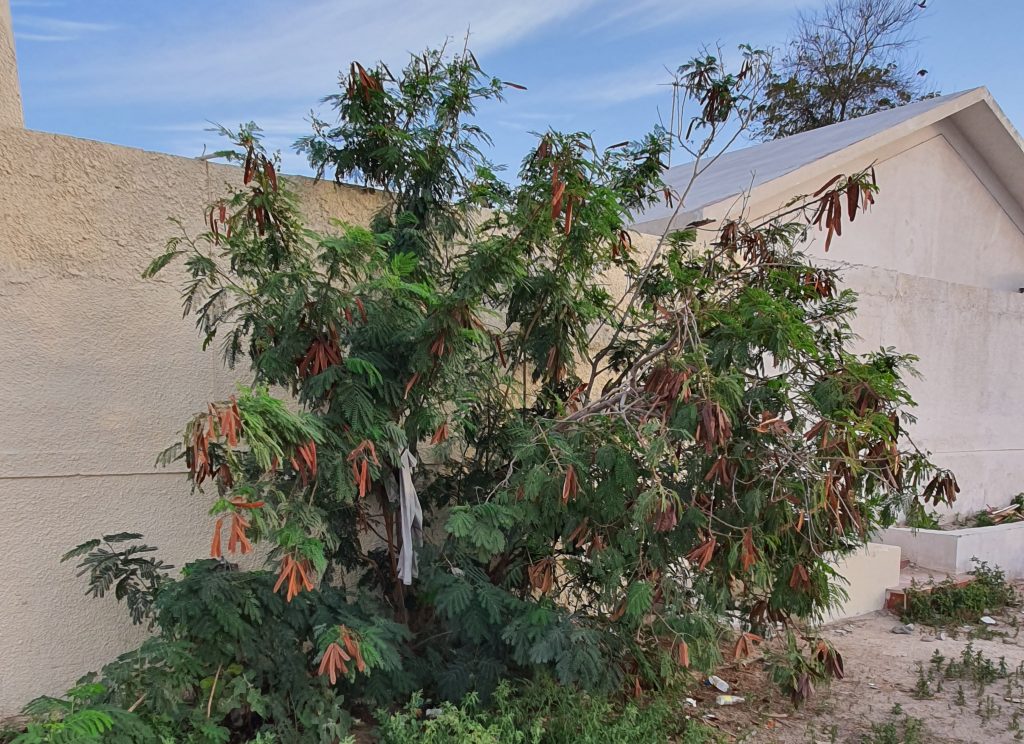 I think we humans are both arrogant and ignorant when we say, "that plant doesn't belong here, we must get rid of it". Plants that arrive and succeed are the pioneers of a new, adapting ecology; yes, they are aggressive, yes, they grow without restraint and colonize -usually – disturbed ground, yes, some make monocultures. Like all pioneer species they are fast, competitive and relatively short-lived. But they establish life and the conditions for the next species of successional plants to come along. All parts of the world are, or soon will be, under such huge environmental stress that we must actively embrace change and nurture these new ecologies. We cannot live in a world without complex ecology, nor can we hold back the change, so we have to go with it.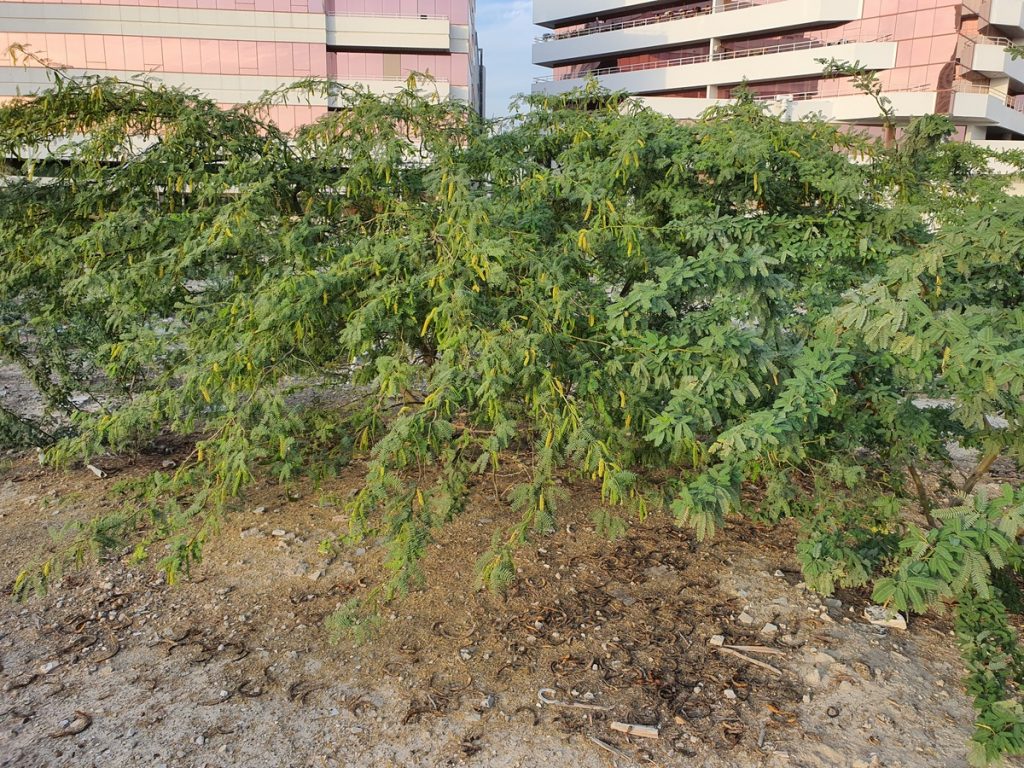 To come back to my brownfield sites, on my previous article, linked above, I encountered the following trees growing on a brownfield site in Abu Dhabi:
Prosopis juliflora
Ficus benghalensis
Eucalyptus camaldulensis
Conocarpus lancifolius
Washingtonia robusta
From recent observations in Dubai I can add the following trees:
Azadirachta indica
Leucaena leucocephala
Plus the Prosopis and Ficus from the above list.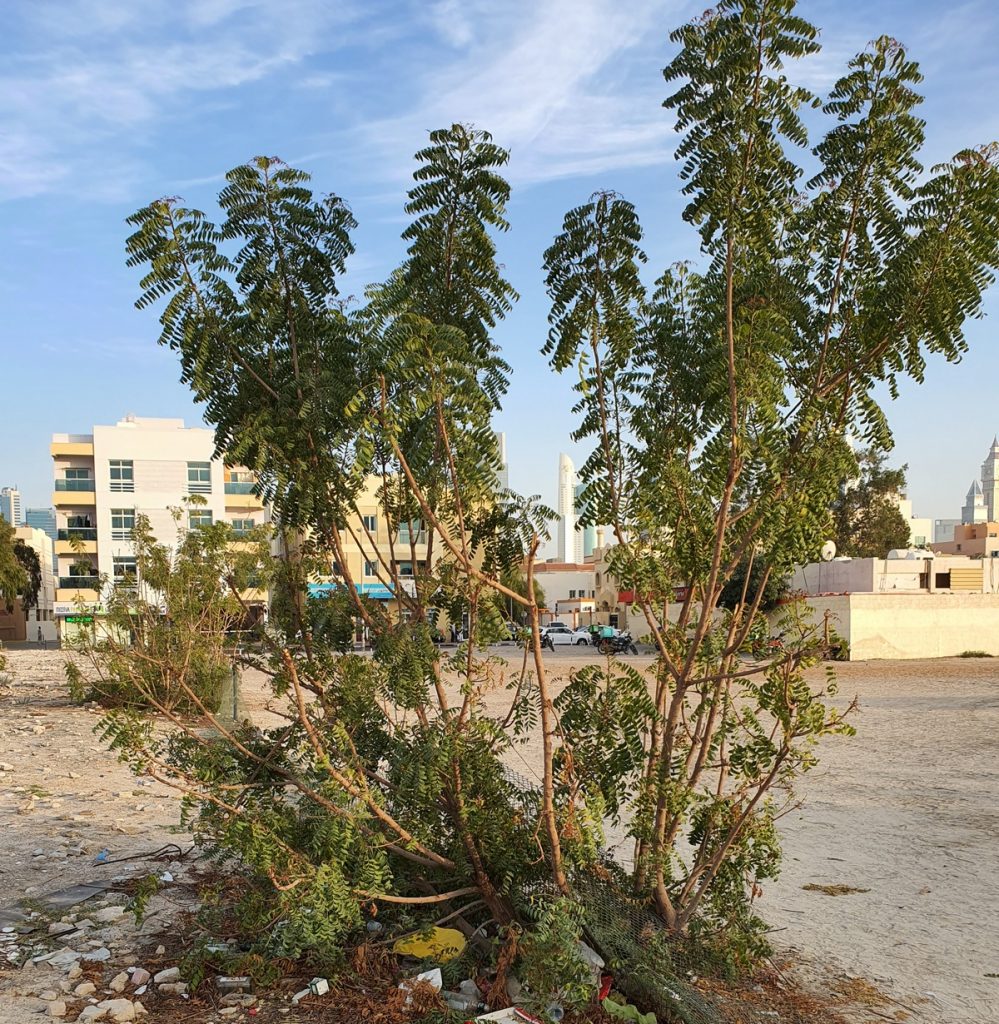 From the looks of it, this site was more recently cleared than the Abu Dhabi one, and trees appeared to be no more than 2-3 years old.
There were also a range of groundcovers and grasses growing; I haven't been able to ID them all, but some I saw included:
Aizoon canariense
Heliotropium bacciferum
Salsola collina
Tribulus terrestris
Chloris virgata
Panicum turgidum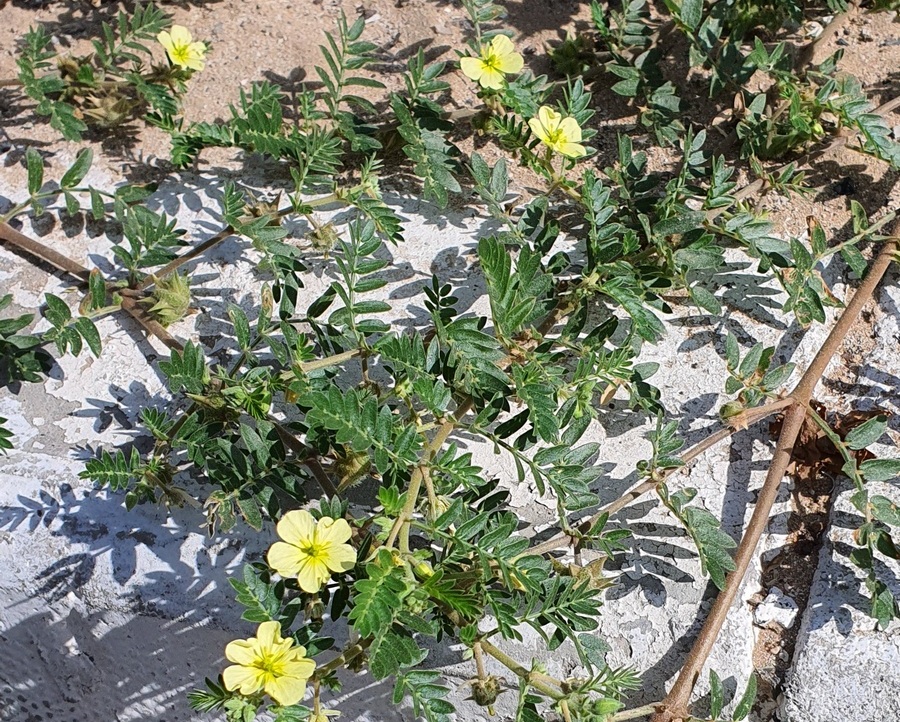 Such plants are equally important in building new ecologies, and a big part of the whole. There are of course, a huge range of native or adaptive plants not represented here, which would nonetheless grow, given the chance.
These observations might be interesting, but how useful are they? If we think of conventional, irrigated landscapes, perhaps not very useful at all; we know and use many of the trees already. Where this becomes interesting, is in that they self-seed and establish without any human intervention. If we could master the art of this, then such landscapes we would nurture and manage, with occasional thinning, removals, perhaps some sucessional seeding or planting. Imagine this on a large scale, in peri-urban locations, alongside roads, at intersections, instead of the over-watered ornamentation we see now throughout the UAE. We then save the ornate for the urban parks, streets and gardens.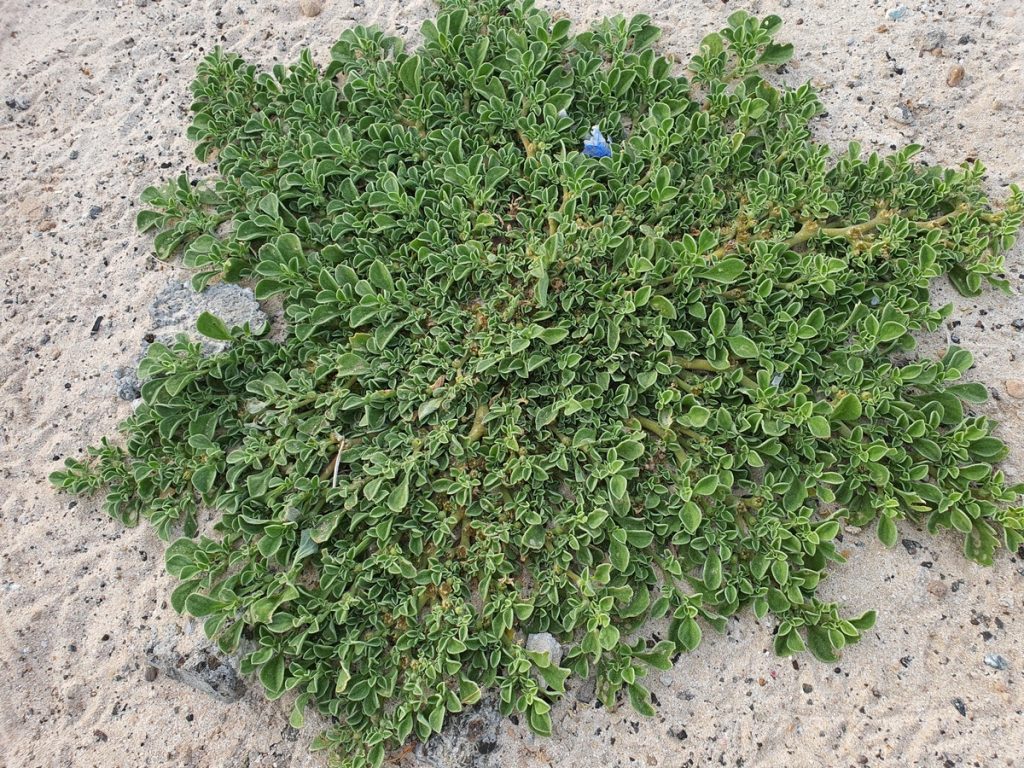 Could this be the basis for a new approach to creating landscapes and if so, how would we do it?
This is the subject of the next article: