Gravel gardens have been around a long time yet with a few well-known exceptions (Denmans, Beth Chatto and more recently, Olivier Filippi), never really make it into the mainstream of garden design. I suspect that for some designers, there is insufficient structure to satisfy, yet that is actually one of the main benefits. This makes them low-impact, from a carbon perspective, and naturally adaptive, with the kind of planting they use.
I have been designing such gardens for the past twenty plus years, and a part of my own garden is gravel, on the area of an old driveway; it's the part I enjoy the most. Unlike perennial borders, there is structure all year round and I often wander around in the depths of winter, enjoying the shapes and forms, or the scent of rosemary (sorry to say, now officially Salvia). It's like you've brought a little bit of the Mediterranean into the garden. Plants self-seed around and it's always a bit different every year. It's a style also eminently suitable for the arid regions of the Middle-East, whether xeriscaped, or not.
Not everywhere is suitable for a gravel garden and the obvious criteria of sun exposure and poor(ish), free-draining soil are a must. Whilst drainage and soil structure can be altered, aspect cannot. The other factor, frost/cold exposure is actually not such a barrier, although it will limit the plant choice a bit.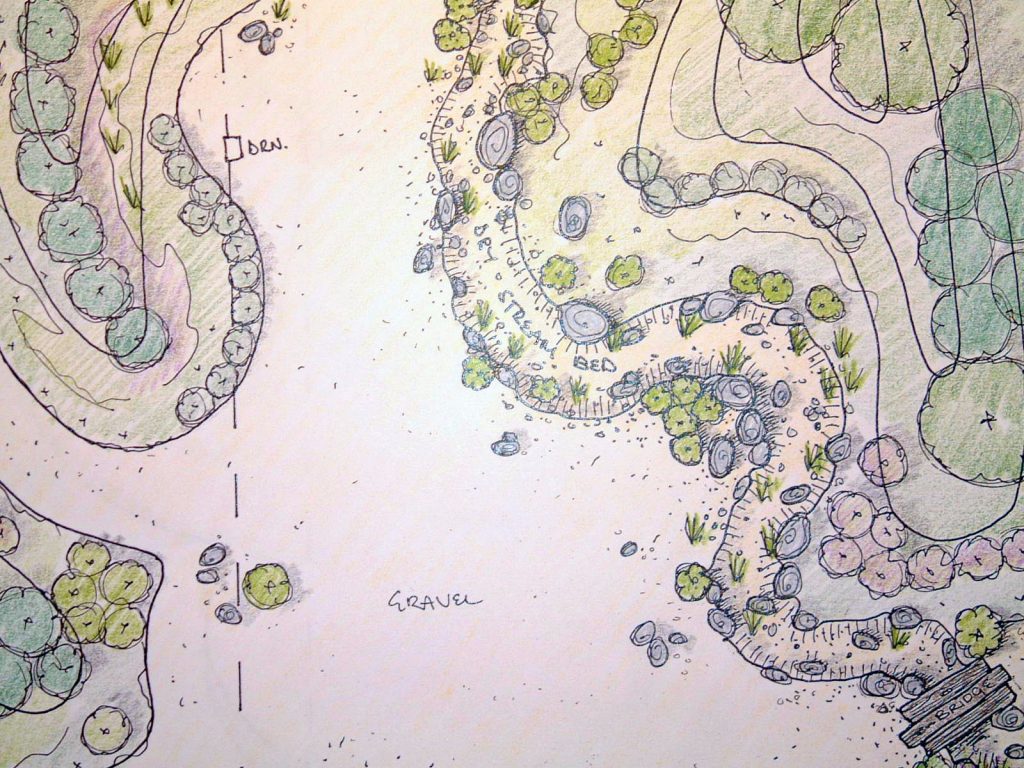 Some years ago I was tasked with turning an old farmyard on the South coast of England into such a garden. The compacted rubble base was on average 50cm deep, so we loosened and/or removed about 400 tons and replaced a similar amount of topsoil into slightly contoured mounds. As it was a farm, the soil was already available stacked on site and there was somewhere to remove the rubble to. We then rotovated 50cm of gravel into the mounded soil to improve drainage and planted with a range of "Mediterranean" plants. Most were from this region, with some Australian/New Zealand species, most notably Phormium (which I probably wouldn't use today). We also built a stream and water feature, using 30 tons of boulders (glacial, so not strictly true to theme).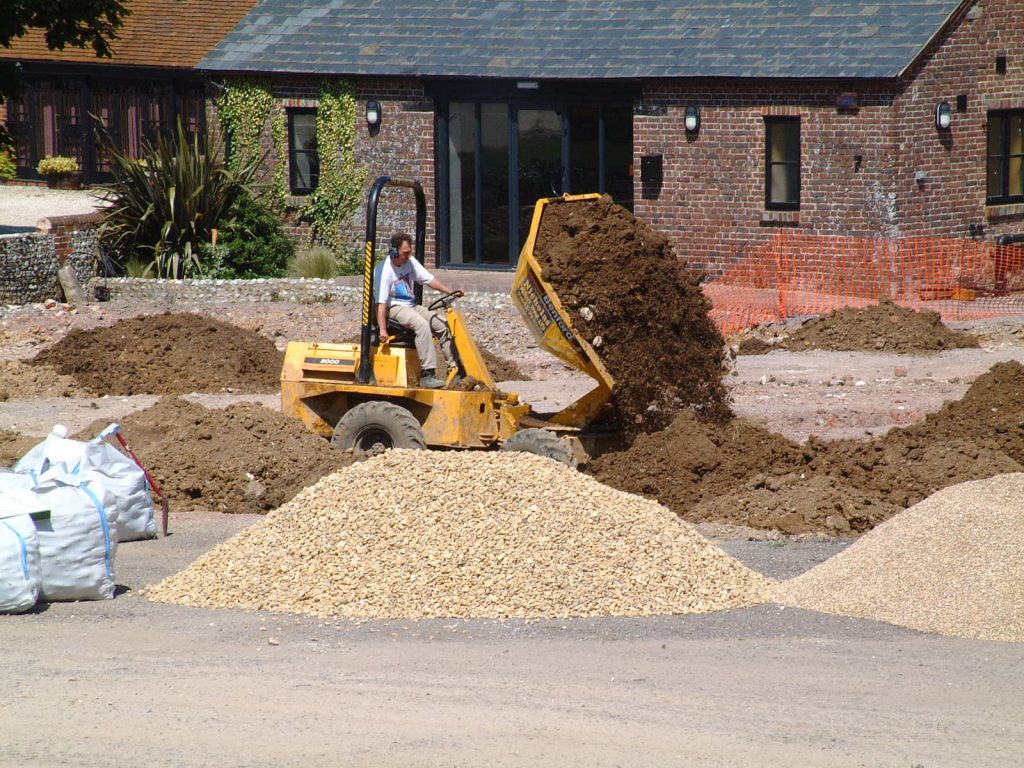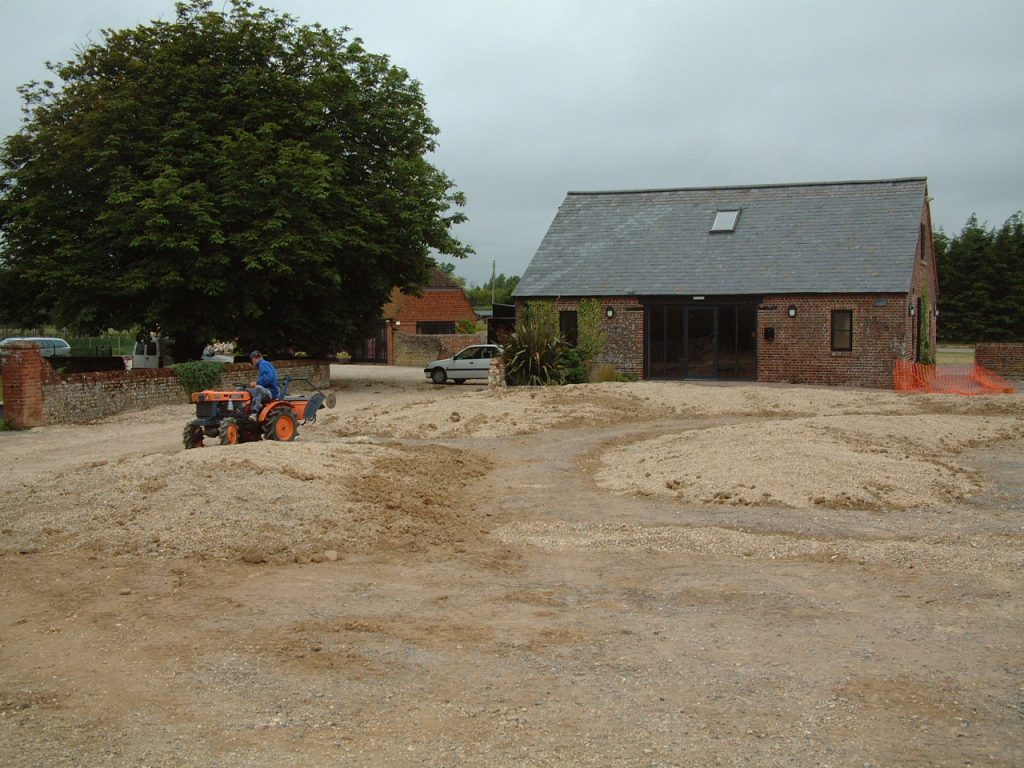 If I were doing this today, I'd leave even more of the rubble in place and blind the soil in over it. Over time I have come to realise that such conditions are an advantage, and expected by many Mediterranean plants.
We used a drip irrigation system for the first year of establishment, which was then switched off in the second year. A 50mm deep dressing of 20mm diameter marine shingle covered everything, including the paths, which were left from the original, compacted sub-base.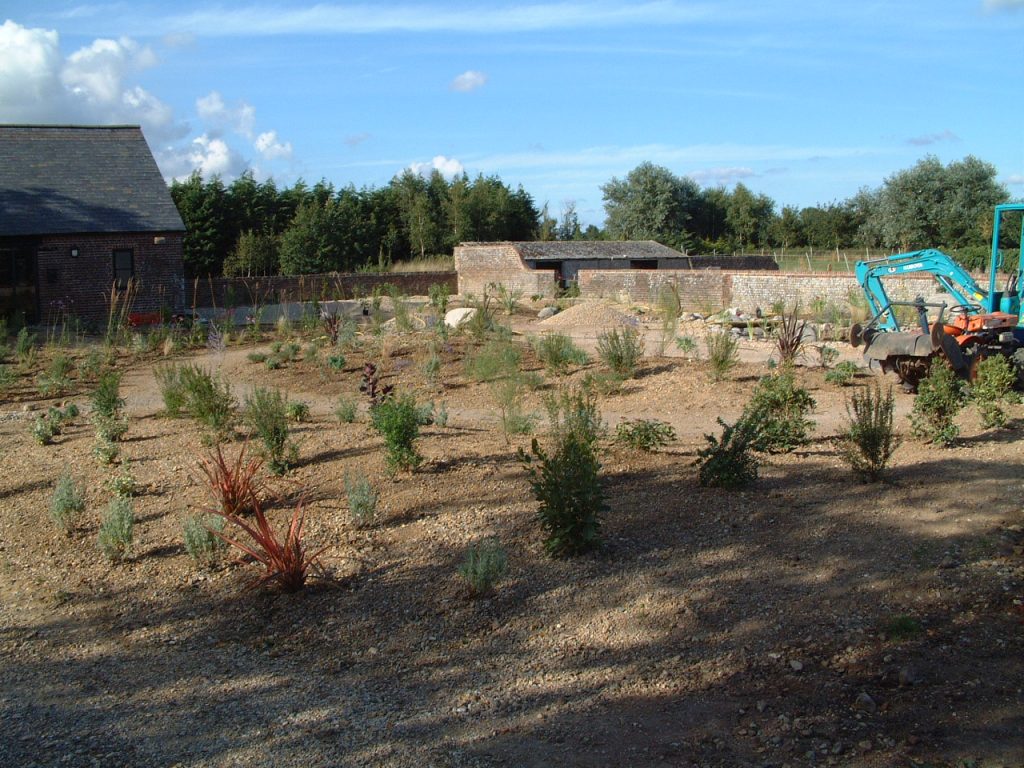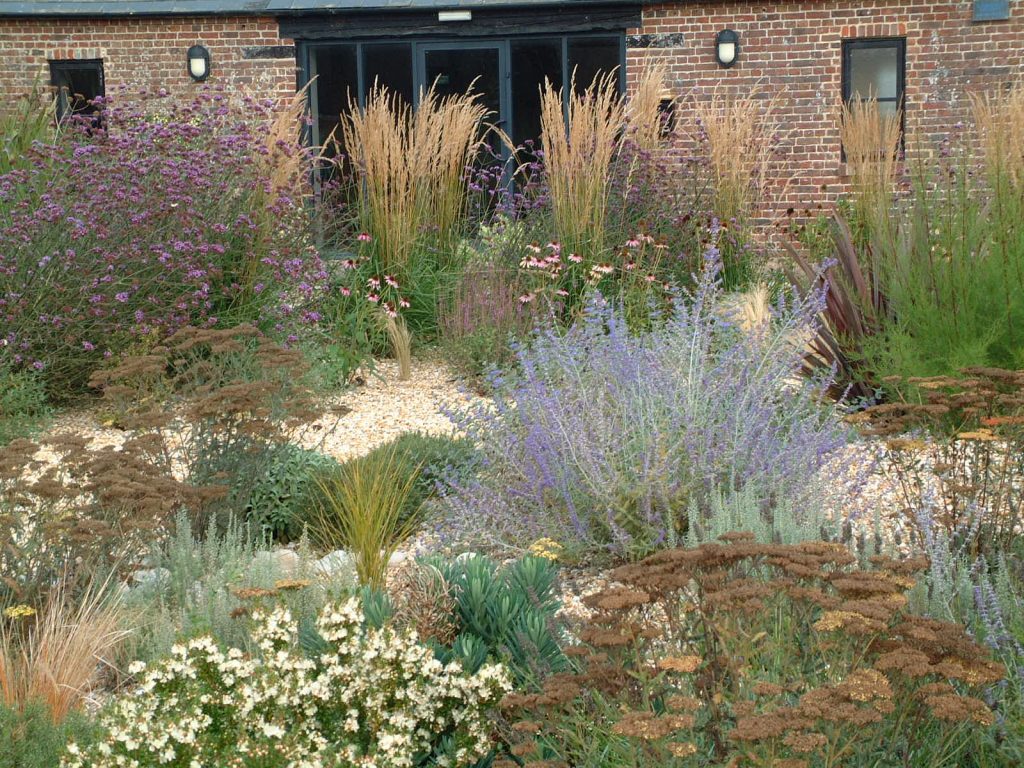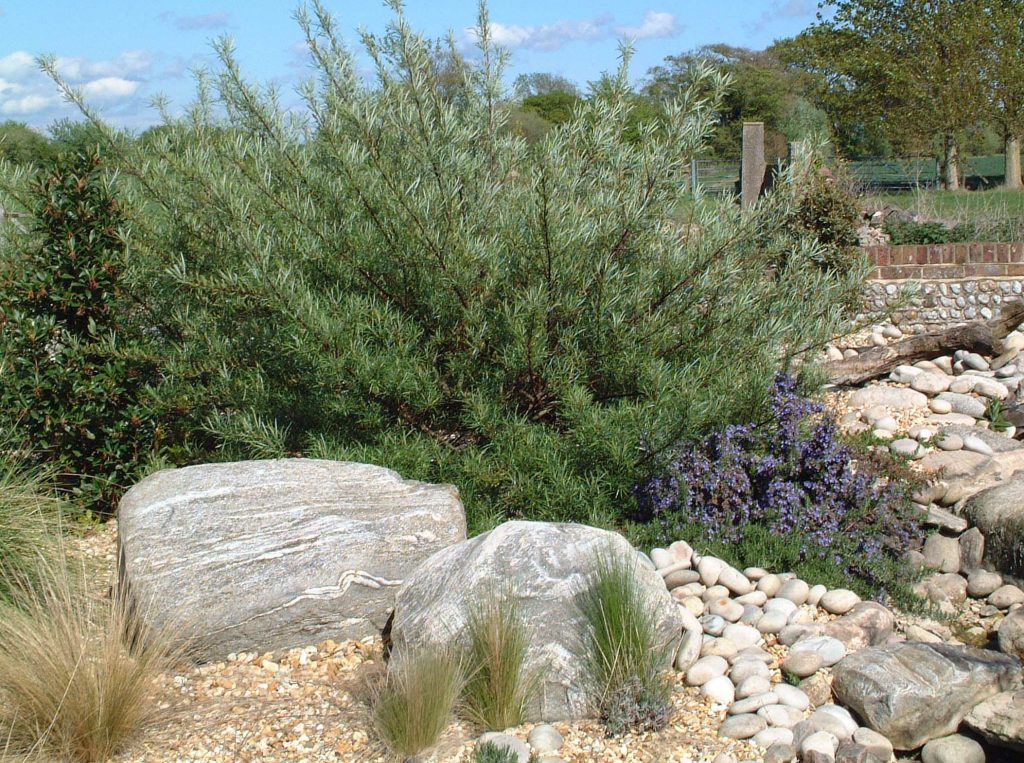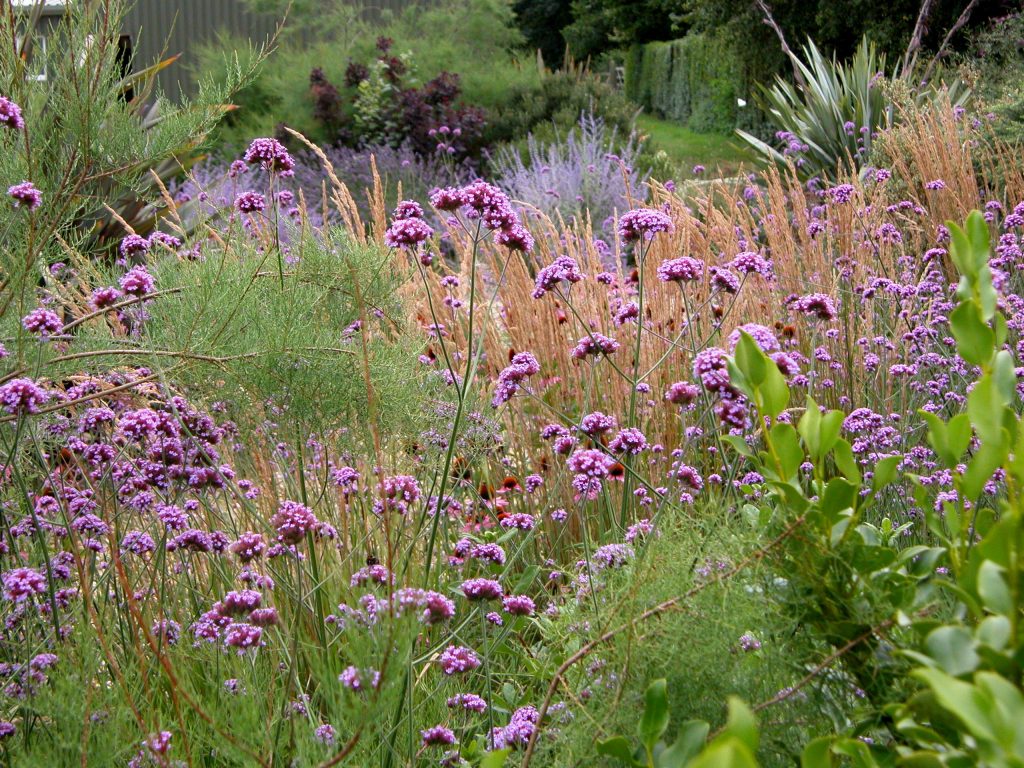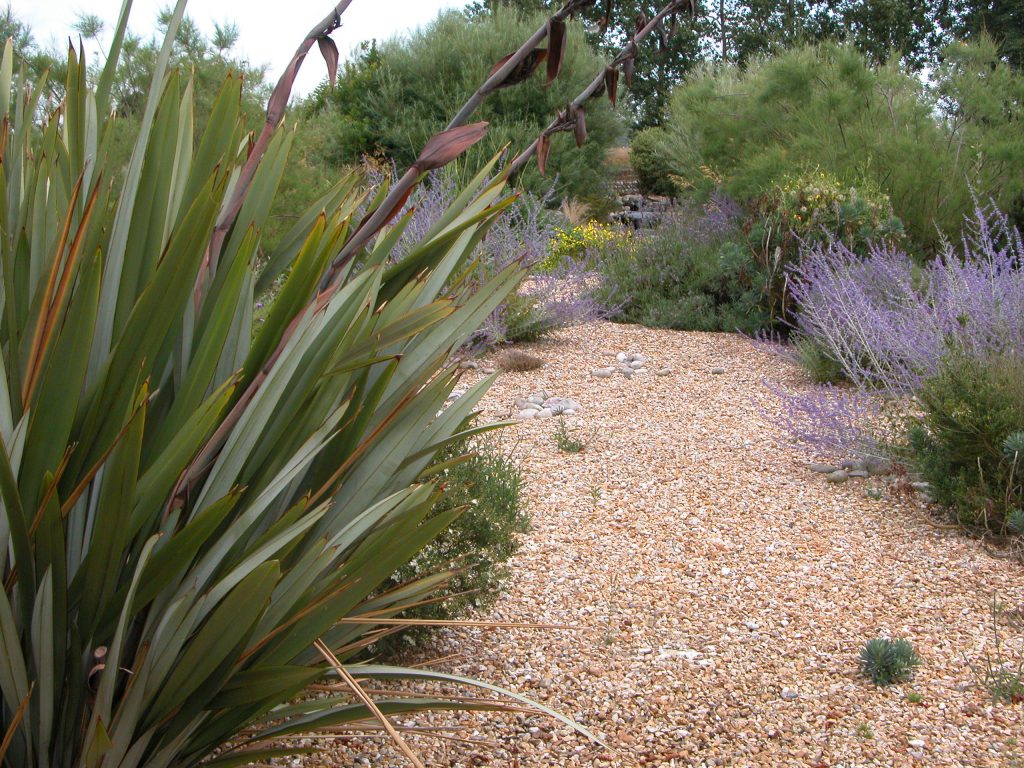 I tracked this garden for a few years until the property changed hands and learnt some valuable lessons (as you always do), such as don't put too many larger growing shrubs in, as the openness of the spatial structure becomes compromised. Whilst they are good at establishing initial structure, be prepared to remove some of them as the garden matures. Some, like the Cotinus and Tamarix, were meant to be coppiced every few years, but didn't have this done. Some perennials work better than others and low mounding shrubs are what make the predominant visual structure of the site.
This last two pictures, plus the header, are a part of my own gravel garden, created over an old driveway, where I constantly experiment with new plants and slowly expand it all.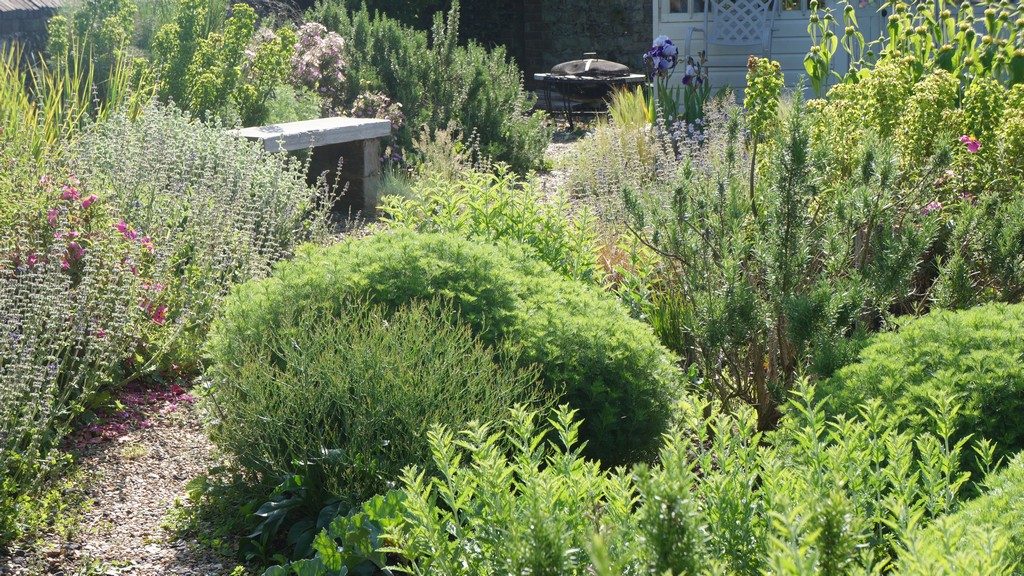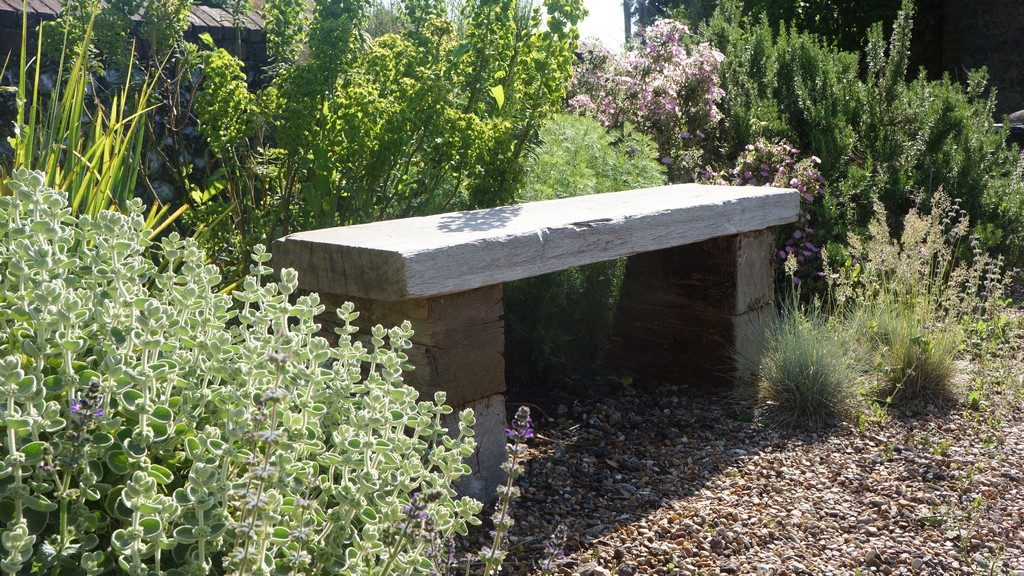 Gravel gardening has much to offer and is an appropriate approach for our time, being of low carbon footprint and using plants that are adaptive and generally tough. Have a go, or get me to help…!