If you work in the realm of landscapes, you cannot ignore the huge rise in the use of artificial plants, "green" walls and especially, grass. It's a booming business and many companies are doing very well from it. But we should also be hearing warning bells ringing about how damaging these things are, both to the environment and to our individual well-being.
I'm concerned about this damage, mostly to our inner beings. I wonder if we have become unable to comprehend that such things show our disconnection from the real. I've worked with plants all my life and always my prime motive has been our connection to nature. Now I design, write, think, talk; always my concern is for the environment and the well-being of the human spirit. This artificiality in landscape betrays both these things.
It is not enough to say this, so I must justify it, even though the obligation should really be the other way around; people who purvey such things should have to prove that they don't cause ill-effects. But such is the state of human consciousness that commercial profit always comes before anything else.
This is not an article about the merits of grass as such, nor what we might use as natural substitutes; that topic has been written about many times. This is about what we do to ourselves when we surround ourselves with fakery – and I don't mean in politics, although there are parallels, doubtless.
We constantly sell ourselves short on what it is we actually need, as individuals. This is me, an environmental designer, saying us humans should be selfish, and demand more. But not more in material terms, in things. More in Soul, in environmental harmony, in biophilic contact. More respect for the awesomeness of Nature. How can we substitute the reality of Nature with plastic, and tell ourselves it's okay? This is self-deception on a massive scale, and we need to be aware of it, and reject it.
Before going further on the psychological front, let's talk about the environment. Artificial plants are mostly made from plastic (although high end plants may be silk). Plastic is a one-way route to pollution and there is no difference between the plastic in a green or artificial grass and the plastic that's floating around in our oceans. It's the same stuff and will end up in landfill, being burnt or in the sea as microplastics, amongst its peers.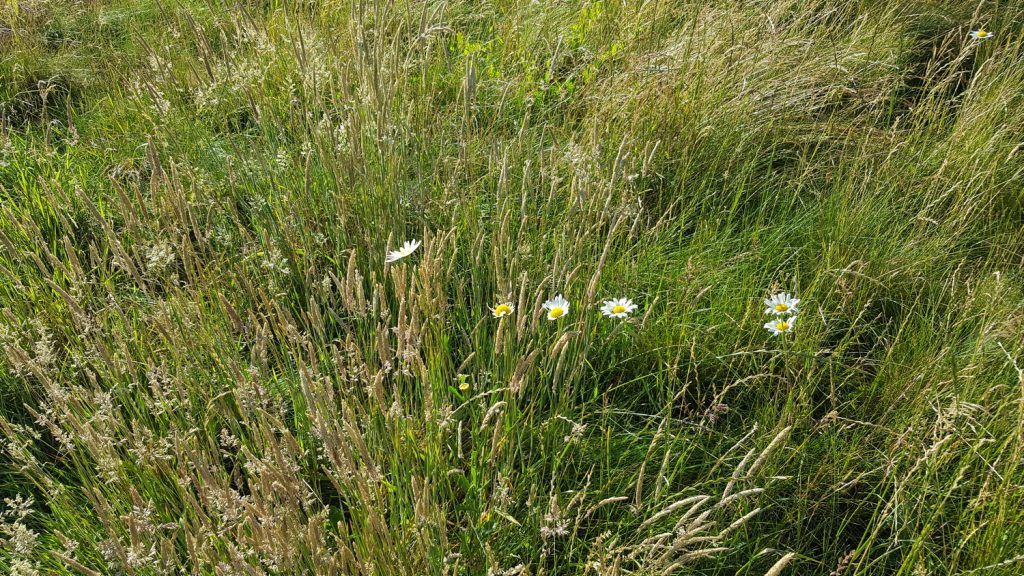 Artificial grass also is responsible for killing off the soil and its ecosystem in areas that once were living. Even (real) lawns are of environmental benefit, although other forms of landscape are preferable and yield higher benefits. Yet a lawn is alive, absorbs rainwater, has a life within of earthworms, larvae and micro-organisms, and stores a surprising amount of carbon. Artificial lawns do the inverse of all that and are not even as low maintenance as people think, requiring regular brushing and hosing. You must replace it every few years, too, with rubber crumb underlay being especially problematic to dispose of.
We buy into these products because we think we are being sold an easy life; in fact, we are being sold a deception, that Nature can be imitated, bettered. That you don't have to get involved with it in any way, that the real thing offers nothing better, that biophilia (your innate need and love of Nature) can be mimicked. But your inner being is not deceived, just your outer one.
On the whole, we don't realise just how disconnected we have become, in our modern societies. Each generation has less contact with natural systems and ecologies than the last, and each generation perceives its own experience of reality as normal, how things are. If we could go back 100 years, I think we'd all be astounded at the verdancy and variety of life, of just how rich and varied Nature was. Perhaps then we would wake up to the fact that we have forgotten our roots and lost our way. Now, we surround ourselves with the artificial and think that it is okay.
Landscape design doesn't help in this respect, especially in the public realm. Commercial space becomes dominated by hard materials; plants, where they exist, are regimented and ordered. Water features are devoid of plants because they are messy, need skilled maintenance and the chemicals in the water wouldn't support their growth anyway. How sad, what an opportunity missed, what absence of life in our urban landscape.
In all our striving, we should remember above all where we came from. A disconnected life allows not only the artificial to be okay, it switches off our concern from the environmental and climate crisis, as if we live in a bubble of man-made life, separate from the planet.
So for the sake of you own being, ditch the artificial. Embrace the messiness and verdancy of Nature, get your hands dirty – the bacteria are good for your health and your happiness. Let your children experience this, teach them about that wild and somewhat frightening side of Nature, for it needs our respect, and our love. And if we love Nature, we might just find we can finally love ourselves.