About 60% of my garden planting consists of self-seeded plants, which might seem surprising. I'm particularly focusing here on my dry garden but the same applies elsewhere. So how do you keep an acceptable aesthetic when plants put themselves here or there, without consultation?
I find that a different attitude to that of the "traditional" gardener is useful, if not essential. I like the dynamic and surprise of the shifting combinations and patterns that occur. Very few of these plants are annuals, most are short-lived perennials, with some grasses, herbs and shrubs. With a few exceptions, these are plants I have introduced to the site over the years and which have found their "happy".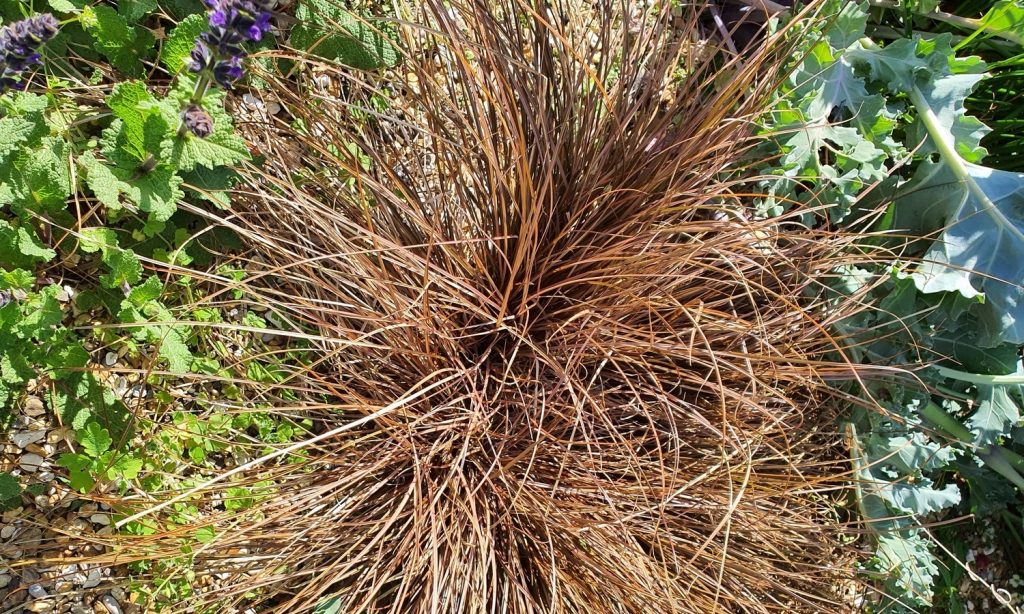 Walking around this morning, I made this list (in no particular order):
Aquilegia vulgaris
Crambe maritima
Fragaria fresca – alpine strawberry
Geranium sanguineum
Salvia nemorosa
Euphorbia characas – various forms
Euphorbia myrsinites
Foeniculum vulgare purpureum – purple fennel
Pentaglottis sempervirens – green alkanet
Cynara cardunculus – cardoon
Eupatorium cannibum
Stipa tenuissima
Festuca glauca
Carex petrei
Verbascum olympicum
Galactites tomentosa – annual
Sisyrinchium striatum
Geum rivale
Lavandula (hidcote or similar)
Rosmarinus officinalis (Salvia rosmarinus)
Acanthus spinosus
Phlomis russeliana
Melissa officinalis – lemon balm
Valeriana officinalis – common valerian
Verbina bonariensis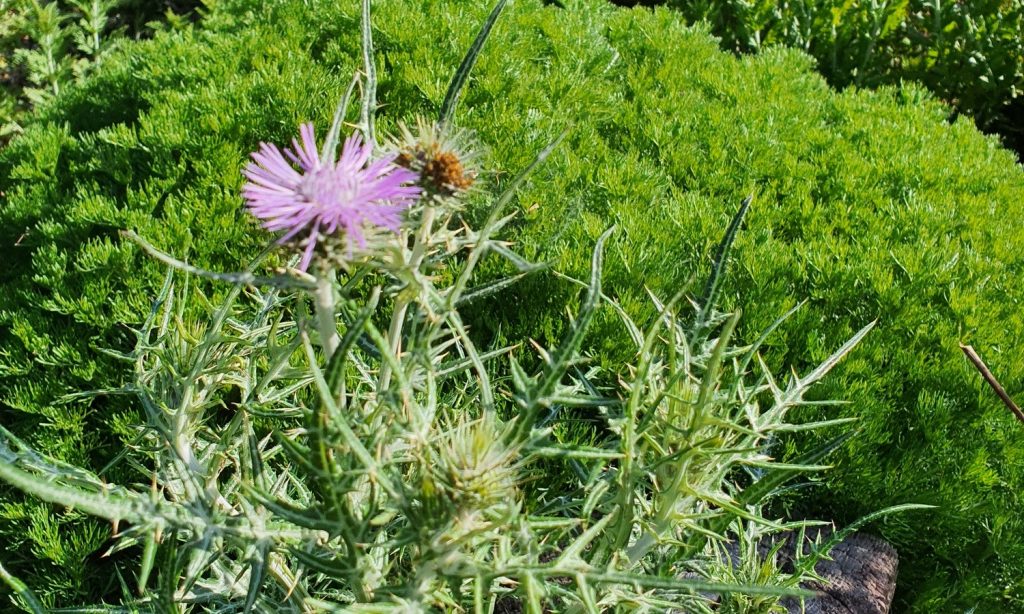 There are others, but these are the usual suspects. I have a range of about 15 shrubs and sub-shrubs that form a more static framework and those listed seed themselves around and between at will. I have to be ruthless and remove plants from where they are not wanted, and that's always hard (they often end up in my nursery). And of course, there are many other self-seeders which we would traditionally call weeds: veronica, greater celandine, field forget-me-not, buttercups etc. They all have their own beauty and I could never manage to eradicate them, even if I was of a mind to, which I'm not (bindweed is another matter).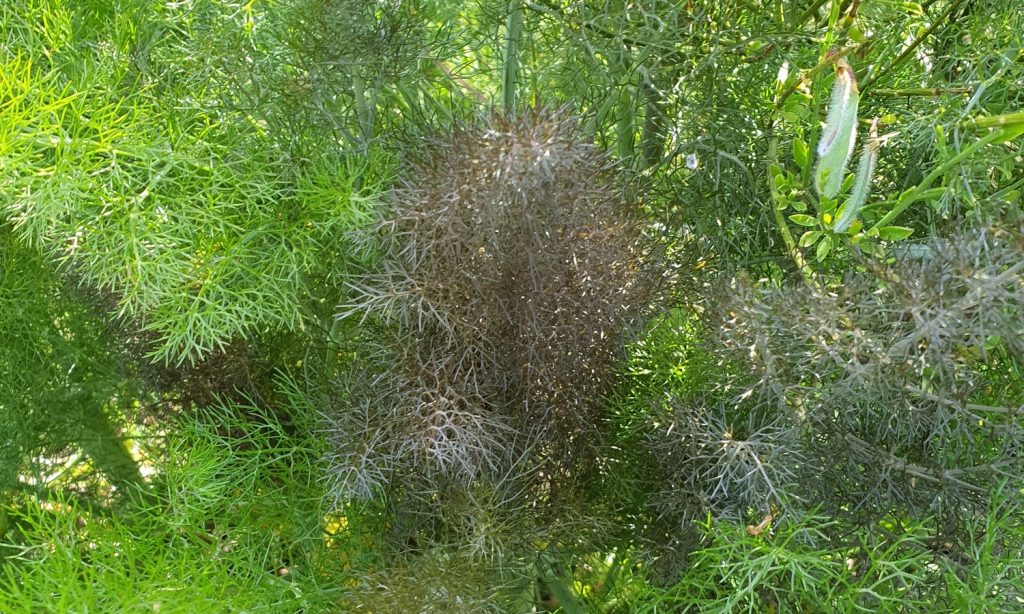 So form structure with your shrubs, herbs and other prime perennials, and let the remainder shift around; they're not annuals (apart from the Galactites), so the scene doesn't change radically from year to year, but over a slightly longer cycle. This works well for a mixed or herbaceous border, but is especially well suited to a dry, gravel garden style, where there are few or no border edges to maintain.
Some plants can be overwhelming and a few invasive, so best avoid those. I now severely limit the amount of Phlomis russeliana I have in my borders; stunning though it is (the winter seedheads are wonderful), it is a thug and will swamp out lesser plants and it produces a copious amount of seedlings.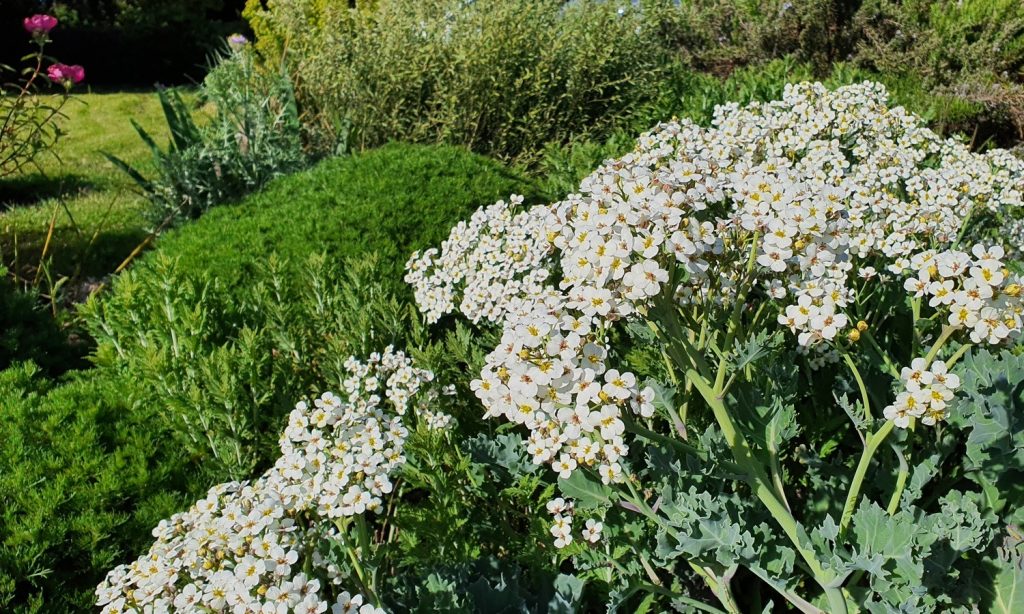 Gardening like this is more of a co-creation; you are working with nature and not entirely in control. There are many benefits to this, not least the surprise of an unexpected combination, or the sudden appearance of plants you never knew set seed. This is a great example of adaptive planting, where plants are fully attuned to the climate and local conditions. Give them a chance and see what happens!