Water in its purest form is the most simple of compounds – two atoms of hydrogen to one of oxygen – yet it is possibly one of the least understood "elements" on this planet. Strange, when it covers 70% of the globe and our bodies are 70% water. We take it for granted now, when once we considered it sacred. There is little appreciation of water; we no longer walk to the well, there is no effort involved and seemingly no end to its availability – except there is, but that's not what this article is about.
I want to try and inspire a deeper appreciation of this element (not used to describe its chemical properties, for it is, as stated above, a compound), we need to reconnect with it as the source of life and spirit. I've worked with water for many years, building ponds and experimenting with biofilters and natural cleansing methods. I work intuitively, not scientifically and am the first to admit to large gaps in my knowledge, with a path of learning ahead of me that still looks impossibly steep! Yet the more you explore the qualities of water, the more you get drawn in: the secret of life itself lies in there. To that end, I have recently gone back to building new water features and greywater systems myself, for there is no substitution for hands-on experience and observation.
That water has properties "beyond the obvious" is a no-brainer – you can observe many of these for yourself. Understanding what exactly they are, how they are generated or destroyed, and just how far they go, is another matter altogether. You cannot investigate water for long without coming across the name of "Viktor Schauberger" an Austrian forester who investigated/discovered/rediscovered the more mystical properties of water during the first half of the 20th centaury.

So where do we begin, on a journey to a greater understanding of water? That's difficult, but let's start with what we can see: the way that water moves. Our mathematical minds tell us that the quickest way from A to B is in a straight line, but water doesn't move like that, even when it could (in fact, nothing in nature does). Water moves in a never-ending series of spirals and vortices. Why? because that way water is energised; it generates or attracts minute electrical charges and controls it's temperature, moving as close to the optimum of 4° C, when it is at its most dense (it expands either side of this point). This vortical movement causes the winding motion that we see in rivers once they reach the valley bottoms and plains, and the eddies and swirls you can plainly see in any moving body of water.
Vortical movement is centripetal, rather than centrifugal. It uses the force of implosion, rather than explosion. This form of movement gathers force and energy, rather than dissipating it outwards. Straight away this seems odd to us, for we are used to a science and technology based solely on the force of the centrifugal, explosive, dissipative; which inevitably must lead to loss and entropy. That Nature uses a different form of energy seems unreasonable to the scientific mind. It has been said that there is endless energy that can be captured from the movement of water (not from hydro-electric use) and if we could efficiently split water into oxygen and hydrogen by electrolysis then we could capture energy with water as the only emissions; but I do know that the way that water moves is strongly bound up with its health, and so the health of all life, and that is an area that interests me greatly.
Schauberger states that water tries to maintain itself at its greatest density of 4°C; then it has greatest energy and the water is at its most "enlivened" state. The problem with this is that it is difficult to measure or assess by conventional scientific means; this does not mean, however, that it is cannot be true. What we can say, however, is that water in its most natural state is the most healthy, and so at its best for both ourselves and the environment.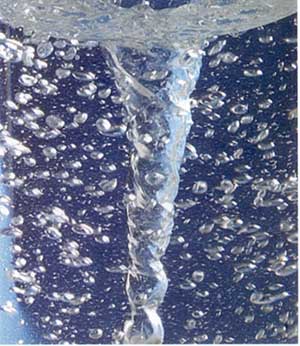 Water may also carries memory, which accounts for whether it is in an "enlivened" state or not. In homeopathy, a benign substance is diluted to the point where it is chemically nonexistent, but potentially very active, and this is based upon the latent memory of water. This is also true of pollutants, whose influence can still be there even once the source has been removed. Fortunately, water will self-heal if only allowed to move in its natural rhythms. The design of Flowforms is one response to this, allowing water to regain it's own energizing movement, and other devices, such as spiralled copper coils and units containing pre-energised water are all said to effect and energise water that flows past them. I have no particular view about this, but then, I haven't done any tests on such devises and of course, knowing how to measure potential results is always the problem. In pond ecosystems, health can be largely determined through observation and I prefer this approach, where the results of alteration can be seen in biological response.
There are a number of issues I have experimented with at times: enhancing the natural rhythms of water movement, enhancing biological activity in breaking down pollutants, and incorporating ornamental pond systems with purification of household greywater discharge, rainwater harvesting and garden irrigation. All these things require biological understanding and observation but to my mind, they most of all require an open mind and a sense of respect, an acknowledgement that water is in fact precious and scared.
I live in an area surrounded by intensive agriculture, which extracts groundwater to irrigate vast monocultures of salad crops. This is the worst kind of abuse of water, treating it as an inexhaustible utility, to pollute with herbicides, insecticides and fertiliser runoff. Mankind's ignorance and lack of respect for the most fundamental and vital element on this planet can only lead to exhaustion, depletion and pollution on such a scale that the very existence of all life is put under threat. We need to look for the highest potential of life, not the lowest common denominator. Time to get critical in our thinking, and get connected back to deeper understandings.
The most exciting thing is that understanding water truly can reveal the secrets of life. Through appreciating this simplest, yet most profound element, I believe that humankind can come to a greater appreciation of himself, and his place in the Universe.
All for a cupful of water.
---
First published in 2007